Managing the payment of employee salaries in the GCC can be time-consuming, costly, inefficient, and filled with banking roadblocks for expat workers, all the more reason why smart and flexible office payroll solutions have become a prerequisite (rather than an option) for established companies. 
In an ideal world, finance and HR departments need a smart office payroll system that can be operated through a single platform to pay employee salaries smoothly by:
Saving hours on monthly manual paperwork 

Allowing flexible payment options 

Not charging extra for paying more frequently or non-WPS salary payments

Paying monthly WPS salaries (in the UAE) for just 0.50 AED per record
Unfortunately, the current reality for people handling payroll is anything but this. 
Instead, finance and HR departments are left with constant frustrations as they try to accurately process monthly salary payments, all while ensuring that hard-working employees (many of whom are migrant workers) get their money transparently, cost-effectively and quickly. 
It's almost mission impossible. 
This is why we launched NOW Money. Our mission is directly mentioned in our name: We want to make it easy for you and your employees to pay and get their money NOW via a single platform, as well as welcome them to the world of digital mobile banking with their very own account and free debit card. 
Four out of five MENA adults don't even have a bank account, so in the process of setting up a new smart office payroll system, your company would be helping to bank more unbanked people in the region. Talk about giving back to your employees!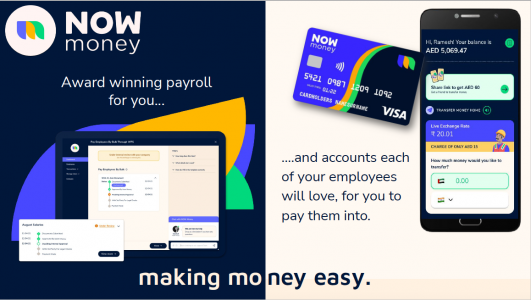 NOW Money helps employers and employees make today's big salary payment problems a thing of the past through our smart and flexible office payroll solution, with an emphasis on smart and flexible. 
The platform is smart, offering:

Complete workforce salary info visibility
Bulk payment payroll templates

And

easy WPS salary management
It's flexible, offering: 

The option to pay frequent (such as daily) payments, at no extra cost
The option to pay individual commissions and bonuses, at no extra cost 
An easy (and free) way to manage salary advance requests

And the benefit of giving your employees

salary-linked mobile bank accounts capable of making international money transfers and sending global mobile recharges
All of this can be easily managed from the NOW Money dashboard, which provides intuitive navigation to transaction history, employee data (SIF files), account deposits, bulk payments, and even your WPS status (if you operate in the UAE). 
When logging on, this is the first thing you'll see. Note the easy-to-read and navigate menu bar located on the left side of the screen.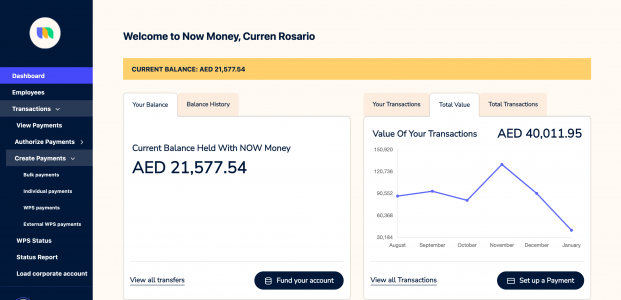 It's one thing to talk about how these features have cut out the hassle of payroll management, but another to explain exactly how we do it. 
In this article, we'll run through the top features of our smart and flexible payroll solution, showcasing how your company can easily and quickly have a new payroll system up and running that does away with some of the biggest headaches our industry faces today. 
We'll cover:
The Smart Office Payroll Wishlist 

Lower pricing, more flexible payments

Making payroll management simple 
Mobile Bank Accounts For Employees
Sending international money transfer and mobile recharges

Multilingual customer support in 8 languages 
[Looking for a cost-effective, flexible and real-time payroll solution that will also benefit your expat employees? Send us a message or first tell us more about you, and we'll get back to you with the best way to move forward.] 
The Smart Office Payroll Wishlist: What Companies Need to Flexibly Pay a Diverse Workforce 
Let's get on the same page: Companies shouldn't have to pay through the nose – including ridiculously high premiums – for something that is basically an essential service to their business. 
Everybody has to be paid – and companies have to pay their employees. However, in the process of making monthly salary payments, expensive payroll platforms can become a burden as your finance department tries to remain mindful of cutting costs. 
The larger the company, the larger the challenge of managing payroll budgets. 
Lower pricing, more flexible payments 
NOW Money decided to tackle the pricing problem head-on by offering a variety of more flexible payroll solutions for managers. 
This included simplifying costs, by doing away with common hidden charges and extra fees for payroll. 
We offer this flexibility in a few ways. 
No extra charges for paying more frequently, including daily sales incentives, bonuses, end-of-service benefit or overtime
There could be surprising benefits to paying your employees more frequently, like with the example of a mobile phone group that uses NOW Money's flexible payroll solutions. 
With their old payroll provider, they could only pay out sales incentives once a quarter. 
Now this company pays their sales staff with daily incentives, and this has pushed up the sales of most salespeople by 50%. 
This was an easy strategy to implement because NOW Money does not charge extra for frequent payments, so clients are able to pay weekly, daily or more if they choose. 
No charges for non-WPS salary payments made from on-platform deposits
At NOW Money, we can swiftly handle all non-WPS payments for you free of charge. 
All you need to do is upload a SIF (SIF = salary information file, a standard form that contains WPS payroll information about you and your employees), load funds to our smart office payroll system, and you'll be able to start scheduling payments with complete visibility.
Once you've loaded funds to the platform, you can submit a deposit proof, as shown below. This will allow us to track your transfer and credit you sooner.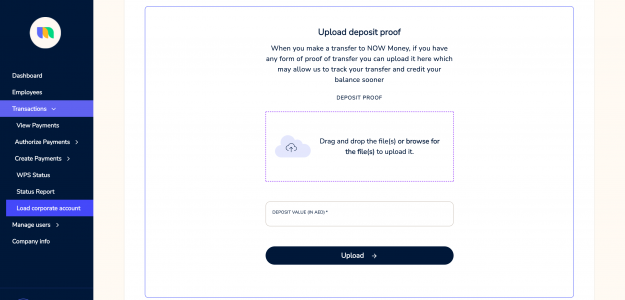 Pay monthly WPS salaries for just 0.50 AED per record
Our smart office payroll system allows you to create, manage and send WPS payments with ease, and at a reduced cost. 
We allow NOW Money business users to send out WPS salaries for just 0.50 AED per record. 
All you need to do is upload your WPS salary file, and we'll create a SIF template that you can save and manage, as seen below.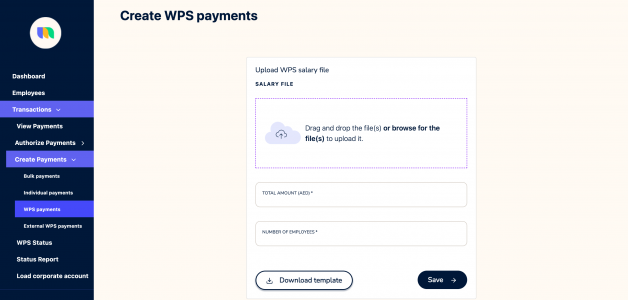 Making payroll management simple
Simplicity matters. 
Yet, despite being such a basic part of business, payroll tools can be maddeningly hard to implement. 
A smart office payroll system needs to be intuitive, simple to integrate, and have a modern look and feel that reflects today's technology. 
This is what NOW Money aims to offer, starting from the first second you open your dashboard. 
Upon arriving, you'll be able to intuitively navigate the most important parts of managing payroll. 
This starts with the ability to get full visibility of your workforce, and you can begin by just clicking the Employees tab on the left-hand menu.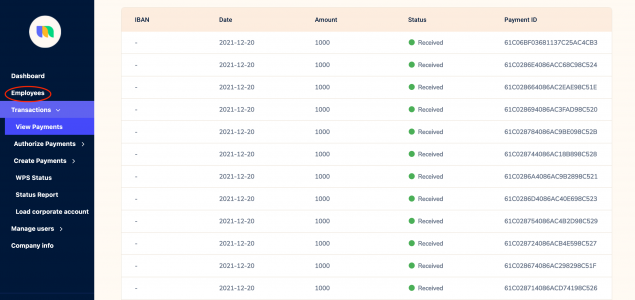 Under employees, you'll be able to easily keep track of headcount, as well as add new people and their data.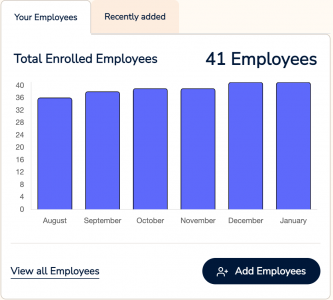 Also directly from the main dashboard, you'll be able to conveniently check up on your current balance, as well as your balance history with an overview from the past six months.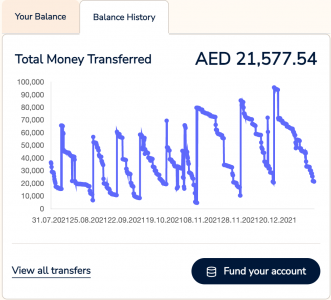 From there, it'll be easy to manage your transactions. 
This includes an entire breakdown of your transaction history, including the amounts debited and from which account.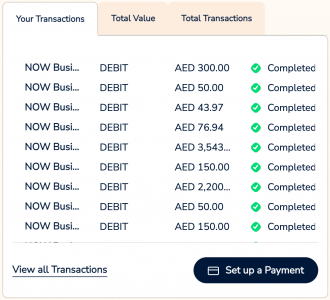 This data is also viewable in a line graph, with data detailed from the past six months, as shown here.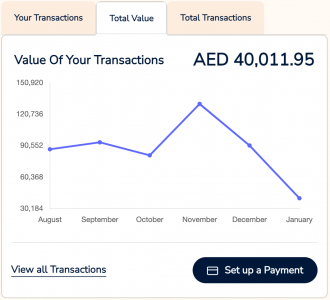 From the dashboard, you'll be able to drill down to discover more about how to make specific transactions, including how to create bulk, individual, WPS and external WPS payments. 
For bulk payments, our smart office payroll system allows you to generate a bulk payment template. All you have to do is upload a salary file, the salary amount, and an Emirates ID (for UAE payments).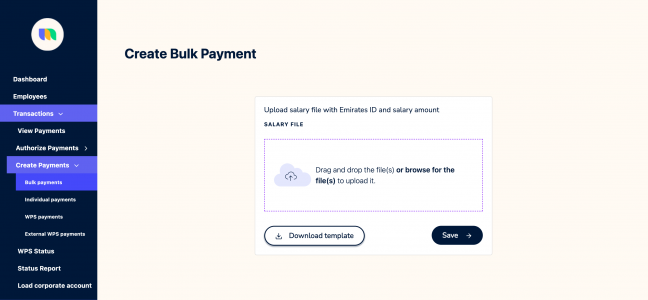 This is just a quick showcase of some of the ways we have made payroll an overall more intuitive and pleasant experience. 
However, a smart office payroll system isn't only for managers; it's also built to benefit employees. 
And these added benefits can be two-way, including a digital expense claim process, transparent leave management, and automatic payslip generation.
NOW Money includes all of these features to better manage payroll, becoming an internal digital storage hub for overseeing important HR and payroll information, such as onboarding dates, employee personal info, commission payment logs, and the regularization of payroll policies.
But for employees, we have gone a step ahead and created a separate side of the system – free mobile bank accounts that can be accessed via a mobile app and are specially designed for foreign workers in the GCC.
Smart and Flexible Office Payroll For You, Mobile Bank Accounts for Employees
NOW Money allows companies not only to manage flexible payroll solutions but also creates mobile bank accounts for employees that are added to the platform. 
Because 4 out of 5 MENA adults don't even have a bank account, it dawned upon us that we could – through a smart office payroll system – improve the payroll process AND bank many unbanked people at the same time, ultimately working to improve their financial literacy and well-being.
This is a huge problem to overcome in the Gulf Cooperation Council (GCC), one that has earned our salary-linked mobile banking app a lot of attention. NOW Money was selected by The Bill and Melinda Gates Foundation to work with IDEO, a California-based design firm, in order to redesign our app to create digital financial services for unbanked and new internet users. Moreover, for our efforts in mobile banking, we were also named the "Leading Mobile FinTech Company UAE 2022" by the International Business Magazine.
It is easy for employees to download our Android app, then they can easily register for a NOW Money account and free debit card by choosing one of 8 languages. The below screenshot is one of the registration screens that will pop up when they begin the process.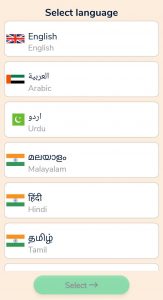 After completing their KYC application and registering successfully, employees will be notified via SMS about their card arrival and activation process.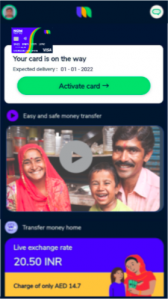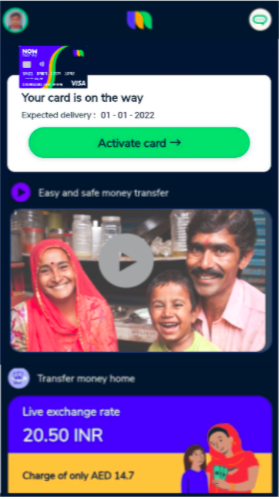 Sending international money transfers and mobile recharges 
Migrant workers in the GCC often have around five dependents relying on the money they send back to their home countries. It is a lifeline.
The NOW Money mobile bank account provides your employees with low-cost international money transfer options, as well as mobile recharge for UAE or international mobile phones, allowing them to stay connected with family and friends while at work in the GCC.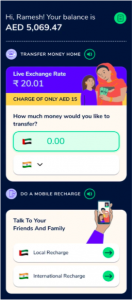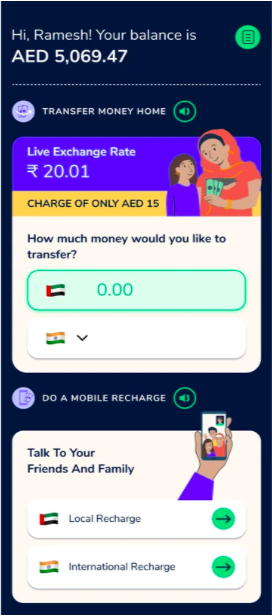 Multilingual customer support in 8 languages 
Perhaps the biggest pain with banking today is poor customer service. 
NOW Money solves this with a multilingual customer support team. Customers can contact NOW Money through live in-app chat or phone, both of which are supported in the following 8 different languages: English, Hindi, Tamil, Malayalam, Urdu, Tagalog, Nepali and Arabic.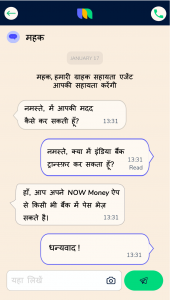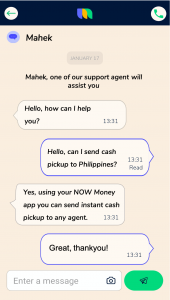 Say Goodbye to Legacy Payment Systems: Smart Office Payroll is Here 
If you are as tired as we were with poorly designed and expensive payroll systems that charge high premiums, then it's time you considered updating how your employees get paid. 
At NOW Money, we seek to give you the best value out of smart office payroll by providing employers a cost-effective and intuitive platform, and your employees with a mobile banking app and a debit card, irrespective of their income level. 
With NOW Money, they can receive salaries and send money home in minutes. 
Contact us to learn more about how our payroll software and SaaS platform is helping employers and employees get the best out of smarter and more flexible payroll solutions.