Our goal at NOW Money is to ensure that your organisation can start benefiting from our smart, flexible, and cost-effective digital payroll system as soon as possible. This is why we have made our sign up process as seamless and straightforward as possible. 
In what follows, we will highlight the simple steps you'll take to get your account up and running and start paying your employees directly into free mobile bank accounts. 
1. Complete the know-your-business process
The first step is for you to register an account by completing the KYB process. 
At this stage, you will supply us with key information about your company – name, industry, type of business, business location, contact details, business registration information, number of employees, payday, among others.
It is through this process that we ensure we are dealing with a legally established and legitimate business.
2. Get access to your portal
Once your business is approved via the information provided, we will give you access to the NOW Money portal from which you will manage all of your payroll transactions. Below is what the portal looks like: 

3. Get access credentials for authorised users
We understand that there might be many people in your HR department handling different parts of the payroll management system. Therefore, we allow you to create access credentials for different levels of payroll staff.
To do this, go to the "Manage Users" section on the dashboard and click on the "Add user" button on the far right. 
In this section, you can also specify the permissions you give to each user, thereby controlling what they can do on the account. If the activities that a user is assigned changes along the way, you can also edit the permissions to assign them new roles. 
Furthermore, if a user is leaving the company (or the department), you can easily delete their accounts.
4. Undergo in-person training
We have created a training guide to make it easier for you to navigate every section in the portal. This guide gives you all the information you'll need to maximise the value of the NOW Money payroll system. 
We also have an in-person training program, where our staff will visit your office to train your key HR staff on how to use the platform. 
You can choose any of these two options or use both if you need. 
5. Upload salary information file with the available template
After granting access credentials and familiarising yourself with how the portal works with our training programs, the next step is to upload your WPS salary information file.
You will see the option to do this by going to the "Create WPS payments" section from the dashboard.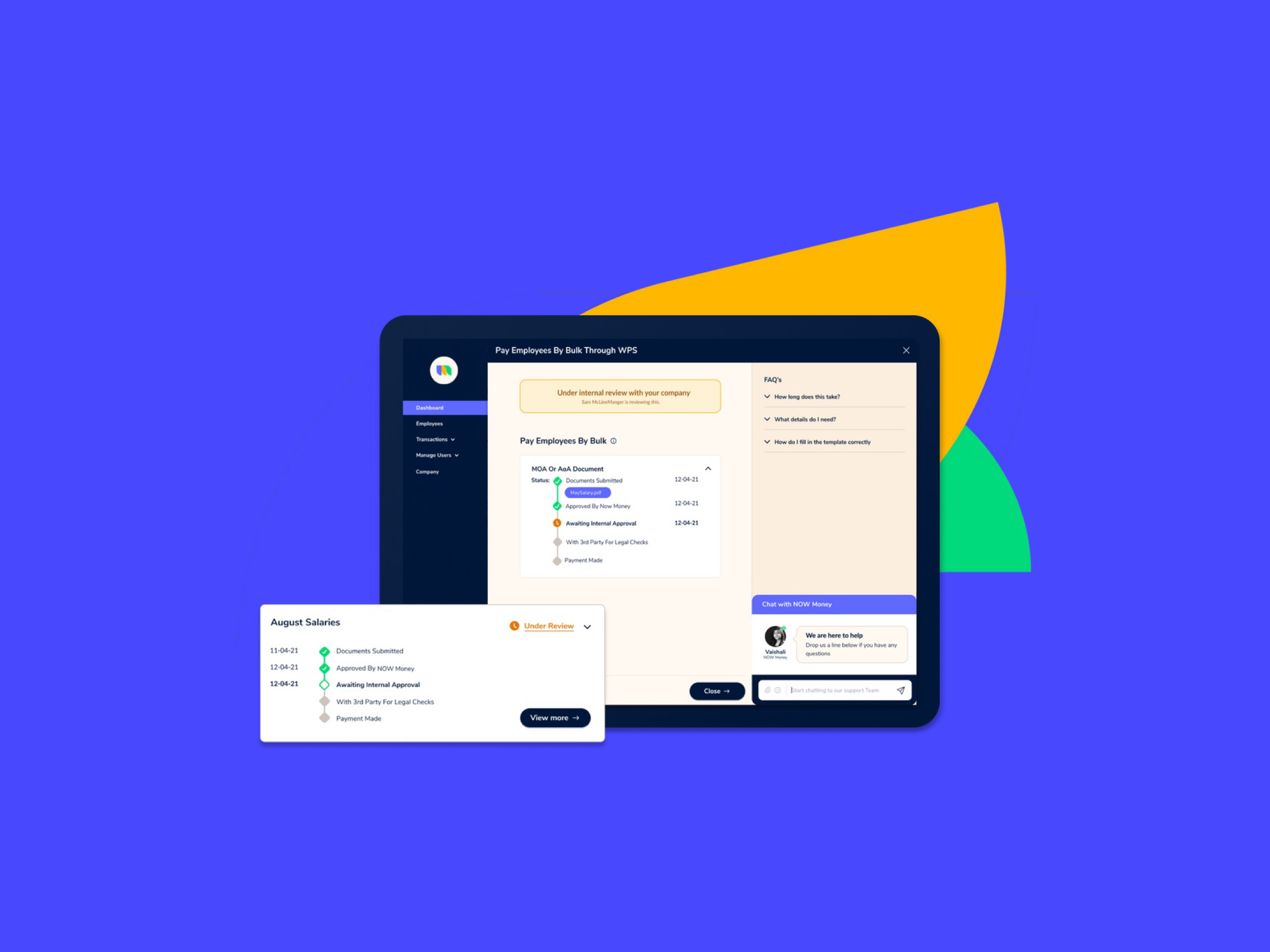 To make this process as easy as possible, we have created a template that you can easily fill in. Just click on "Download template" to get it. 
Once you have filled this template with the relevant information for all your employees, you can then upload it.  
6. Load your account
With all your employees' details now available on the portal, it is time to load your corporate account with money. 
After registration, you will get a NOW Money corporate account. All the money you credit to this account will be reflected on your portal. 
To help us credit your account faster, you can upload a deposit proof under the "Load corporate account" section.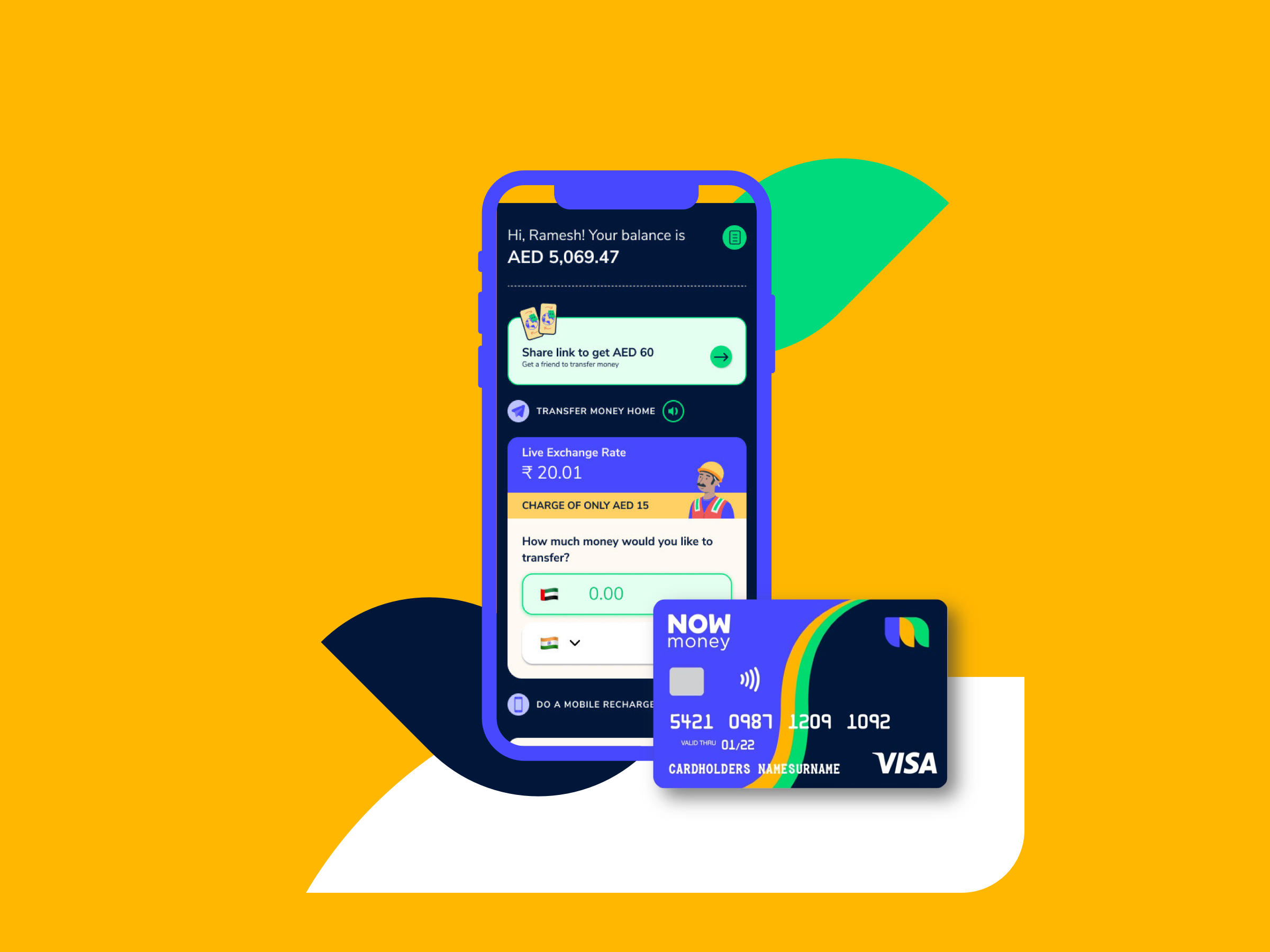 The amount of money in your account will be boldly displayed on your dashboard. This is one way to know if you have enough money for the next payday. 
7. Start paying employees
Now that you have money in your account, you can start paying your employees by going to the "Create Payments" section. 
There are three types of payments available: 
Individual payment: This is the section where you make non-WPS payments (commissions, bonus, end-of-service benefits) that are unique to particular employees. 

WPS payment

: This is where you'll pay the wages and salaries of all employees according to the terms you have agreed with them in their employment letter.  

Bulk payment: You can also make non-WPS payments that cut across all employees (e.g, bonuses or 13th month salary). 
8. Monitor payment status
Once you have created a payment order and there is enough money to fund it, NOW Money will start disbursing money to employees' accounts. 
However, a payment might not be successful if there are problems with the SIF you have uploaded, as seen below. 
We will give enough information on the reasons for the failure so you can make necessary adjustments in your SIF. 
If the payment has been successful at this level, you can also check to see if individual employees have received payment. You can do this by going to the "Transactions" section and checking your transaction history.
As seen below, there will be a debit entry for every individual transaction even if you have made a WPS or bulk payment. 
Alternatively, you can check the same information in the "Employees" section. There you will see if each of your employees has received the payment and what amount was received. 
9. Keep using NOW Money
After making your first payment through NOW Money, it'll be easy to use the platform for all aspects of payroll management irrespective of the size of your workforce.
Keep making WPS and non-WPS payments when due to maintain a good relationship with your employees. 
If you ever encounter a technical problem, remember that you can contact our customer support team by calling us on 800 NOW Money (66966639), sending us a message, or chatting with us directly on your portal. 
Our customer support team offers help in eight different languages: English, Hindi, Tamil, Malayalam, Urdu, Tagalog, Nepali and Arabic. 
You can ask questions, make inquiries, and share your complaints in the language you are most comfortable with.