While the average payroll cards today have helped employees to better receive and spend their salary, they still fall short of what is required to solve the problem of the unbanked in the UAE.
Banking the unbanked in the UAE will require more than just another payroll card – they need a mobile banking platform that allows them to do more than simply receive their salaries and withdraw it in cash. 
NOW Money promotes financial inclusion by providing services to support unbanked, underbanked and underserved workers. We are not just a payroll platform to distribute WPS salaries, but also offer a mobile banking app and VISA debit card that come with the services customers need to manage their finances in the way they choose. 
We support employees sending money locally and abroad, recharging phones locally and internationally, downloading statements of accounts, checking account balance, etc., in addition to receiving and withdrawing their salaries.  
With our mobile banking and payroll platform, unbanked employees who otherwise wouldn't be able to meet the stringent requirements of traditional banks can now enjoy the financial services they need. 
In this article, we will consider what WPS payroll cards are, their limitations, and how NOW Money improves on payroll cards by providing a full-blown mobile banking opportunity that truly leads to banking the unbanked. We'll cover:   
What is a payroll card? 
Going beyond payroll cards
How to provide free mobile bank accounts to workers in the UAE
[Do you want all of your employees – no matter their salary level – to enjoy the full benefits of mobile banking in the UAE? Register for the NOW Money digital payroll system and your employees will be eligible for a free mobile bank account, or you can first learn more about how smart payroll solutions can benefit your business.]
1. What is a payroll card?
Simply put, a payroll card is a debit card that employers create for their employees to receive and spend their salaries. These cards are created in partnership with a financial institution, which serves as the WPS agent of the employer. 
Payroll cards are different from traditional debit cards since they are created specifically for the receipt and disbursement of salaries/wages and other remuneration from the employer. 
For example, what qualifies an employee for them is that their employer is using the financial institution in question as a WPS agent. Consequently, the employee does not need to have a prior account with the financial institution, which is beneficial in the case of the UAE and other GCC countries, where many blue-collar workers are ineligible to open their own accounts.  
Because of the above, payroll cards have been useful in catering to employees who don't have bank accounts. Conditions for creating bank accounts across the GCC can be very stringent, and many expats find it difficult to meet them. It is, therefore, not surprising that the Journal of Risk and Financial Management put the unbanked population in the UAE at 32% of the working population as of 2020.
So, in a sense, WPS payroll cards have contributed to partially banking the unbanked by providing blue-collar workers with a simpler alternative to receive and spend their salaries. 
This is, however, not enough to improve financial inclusion. 
2. Going beyond payroll cards
By their very nature, payroll cards are limited in function.
They are only designed for the receipt and disbursement of salaries, and this disbursement can only take place via ATMs, POS machines, or online purchases. 
Consequently, payroll cards alone are limited to the extent to which they can bank the unbanked. That's because truly inclusive access to banking services in 2022 goes well beyond just receiving and spending salaries. 
For example, for many expats in the UAE, a key part of their expenses is sending money abroad back home to family and friends. A card that does not allow them to do that is deficient in its function. These workers will still have to rely on exchange houses despite their inefficiencies – high fees and poor exchange rates, making round trips to them, waiting in long queues to use them, and carrying cash around, etc.
Another example of inefficiency is that users of payroll cards have to visit ATMs to check the balance on their cards if they lose track of it. How inconvenient!
Employers will also have to suffer as employees may need to leave work to make these trips, resulting in loss of productivity. In general, the more employees need to go out of the office to conduct financial transactions or visit exchange houses, the more time is lost and the greater the risk of unproductivity.
In essence, most payroll cards don't go far enough. They can receive and spend salaries, yes, but what about access to other services that will really bank the unbanked? 
3. How to provide free mobile bank accounts to workers in the UAE
NOW Money saw this problem and decided to go beyond what WPS payroll cards provide by allowing employees to access a mobile banking app in addition to a free debit card. 
When an employer uses NOW Money as its WPS agent, all its employees are instantly entitled to a NOW Money mobile bank account, which includes a mobile app and a free debit card. 
This mobile bank app provides the following services to workers: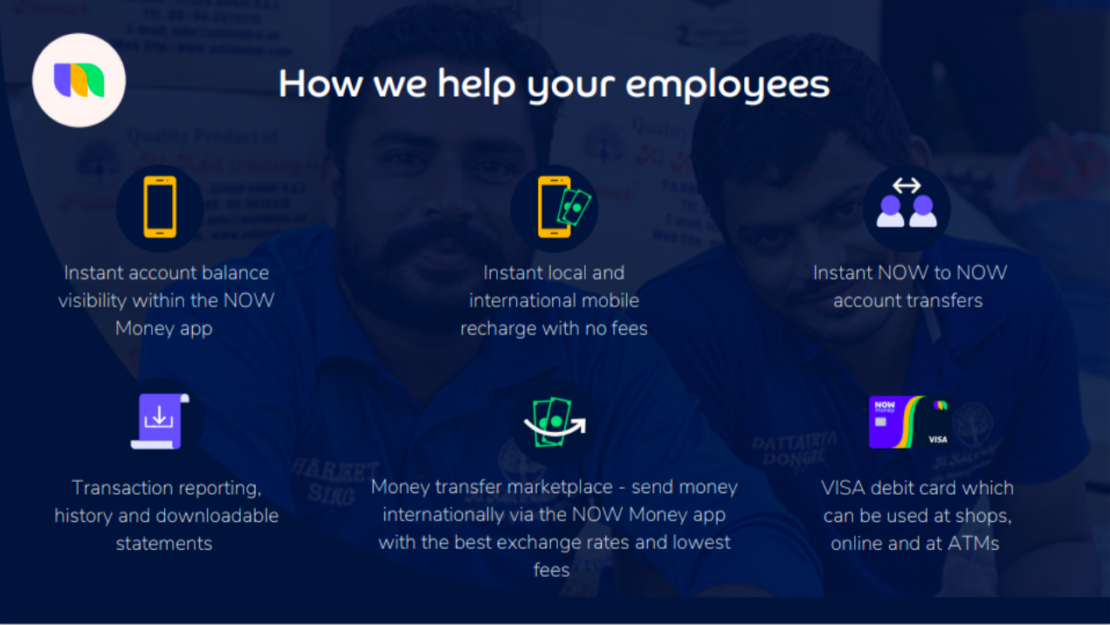 International money transfer

: This is first on the list because it is most important to many foregin workers. The otherwise unbanked employee who has access to the NOW Money mobile app can now easily transfer money to their family and friends abroad in a cost-effective way (lower fees and better exchange rates).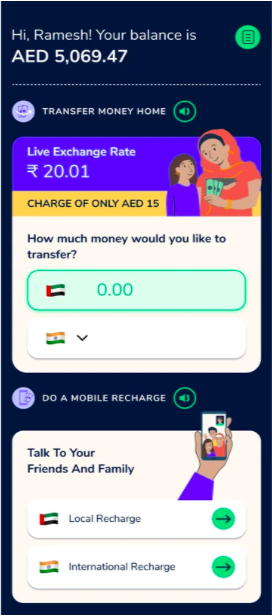 Instant transfers to other NOW Money users

: A user of the NOW Money mobile app can also send money instantly to other users, which means any of their coworkers as well. With payroll cards, users would have to withdraw cash first before they can give money to others. With NOW Money, they can make instant transfers to other NOW Money users. 

Instant balance inquiry

: Instead of visiting ATMs to check account balances, users of NOW Money can check their account balance on the app. 

Transaction history and statements of accounts

: Also, users can check their transaction history and even download statements of accounts. This is especially important for budgeting and financial planning, a basic financial feature that everyone should be able to conveniently access today. Employees can easily identify where their money is going, where they are overspending, and what they need to do to be more financially responsible. 

Local and international mobile recharges

: Phones are now key to our digital lives and recharging them should be as easy as possible. NOW Money allows users to recharge the phones of family and friends locally and internationally.

Multiple languages

: Since UAE is a diverse country, many people might be more comfortable with other languages aside from English. They can use the app in other languages, as well as speak to customer support in their language of choice.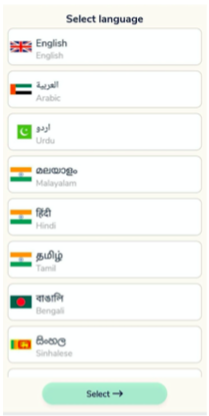 Notification of receipt of salary

: Employees don't have to depend on employers informing them that salaries or other remuneration have been paid. They can get the notification directly on their mobile app. 

Free debit cards

: All the services above are not exclusive of the benefits of payroll cards, including withdrawing money and paying for goods and services online. NOW Money also includes debit cards that serve the function of the traditional WPS payroll cards, with the added benefit of being attached to a mobile bank account.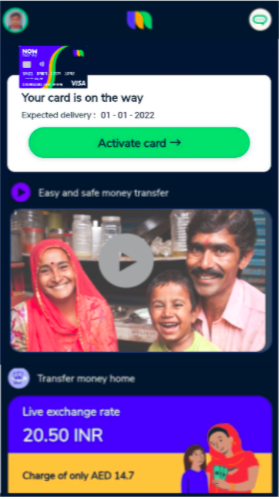 By providing all these services, NOW Money is working to truly bank the unbanked, helping foreign workers to better access a range of important financial services that are crucial for thriving in our digital world, the most important of which are low-cost international mobile money transfers. 
In addition, NOW Money provides a simple, easy, and stress-free onboarding. This includes active customer support, dedicated client success managers, and a seamless card distribution and activation system. 
Why should all of these matter to you as an employer? 
In addition to contributing to the urgent task of banking the unbanked, you will also help to stimulate a more productive workforce. By removing the hassle of making multiple trips to exchange houses, local bank branches, ATMs, etc, employees can experience a better sense of well-being, which will lead to better productivity on the job. 
Want to contribute to banking the unbanked and enjoy the benefits of a more productive workforce? Sign up for a NOW Money account, or learn more about how NOW Money's payroll platform can help your business. 
Takeaways
Payroll cards have been useful in helping employees receive and spend their salaries
However, they have limitations that make them fall short of effectively banking the unbanked
Banking the unbanked requires more than a card for withdrawal and online purchases; employees need access to more financial services.
Mobile banking is the answer and NOW Money has been at the forefront of this in the UAE.