A hiring plan is an essential ingredient when it comes to building a successful business model, therefore, in this post I will show you how to construct one.
Staff-related costs are a huge component of the profit and loss and the hiring plan is something that will help you to calculate these costs precisely, allowing you to later change them accordingly in line with any developments in your forecasts.
Below is an example of how a hiring plan should look: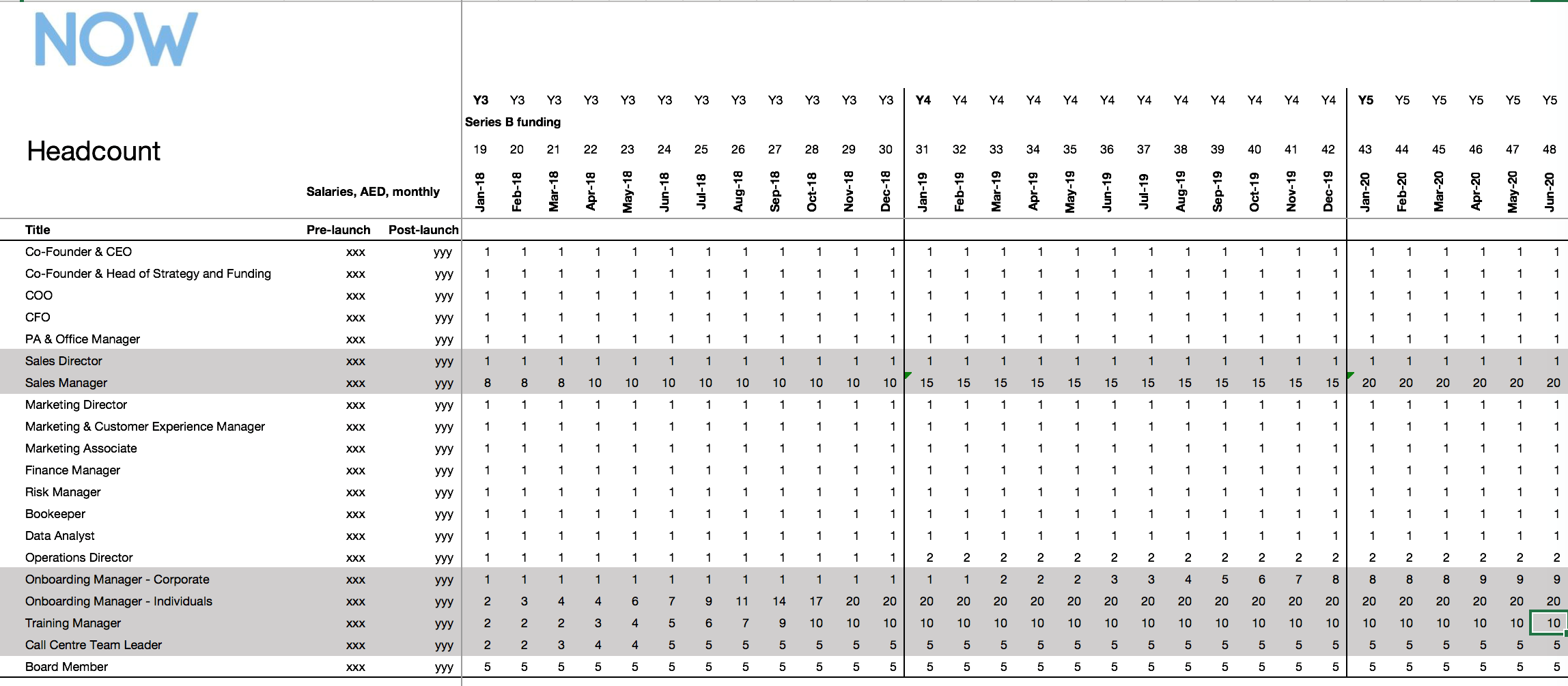 Below is a step-by-step guide to building your own:
1 – Make a list of the job roles with salaries. Salaries can be found on any local job search website. You might want to allow for salary increases once the company is launched, bearing in mind that there will be more responsibilities which should be awarded for.
2 – Each column to the right of the salaries serves as a month where you can input the number of people that you need to fulfil a particular position. They should all start with zero and grow over time.
3 – Identify the job roles which will require more people as the business grows, and list them in order of growth in sales volume. For our company these are the positions that involve working directly with the customers one-to-one, such as on-boarding, training, and sales managers. These are highlighted in grey in the picture above. Once these roles are identified, their number should be linked to the sales volume. To do that, you can create another table where you identify the number of customers to be covered by each role, as shown below:

This information should be included into your 'costs assumption' sheet and will be variable, changing over time. Once you have got this for these "customer-number-dependant" job positions you need to apply the following formula:
| | | | | |
| --- | --- | --- | --- | --- |
| Number of training managers required | = | 1 / No of customers per 1 training manager | X | No of customers in that particular month / period |
After this is done, you don't need to worry about changing the number of sales agents required each time there is a change in sales pipeline or in the forecast number of customers.
4 – The last step is to multiply the number of employees from each job by their salaries and then link it back to your monthly budget in the staff related costs section (or maybe you have your own name for it)! This can be easily done using the Sumif function, which I'm sure you're familiar with by now.
Until next time – happy modelling!