By Fred Schebesta, CEO and co-founder of finder.com
The past couple of years have seen the realm of cross-border payments revolutionised, with even more changes to come. This means that financial institutions are beginning to use new technology, like artificial intelligence (AI) and blockchain. But what will these changes actually mean?
Blockchain is the technology that makes bitcoin possible. Bitcoin is a cryptocurrency – a fancy word that refers to a digital currency that doesn't have any physical bank coins or notes. Plus, it's outside of any government.
While there are other cryptocurrencies out there, bitcoin has the share of the market, for now. You may have seen recent headlines along the lines of 'if you'd bought $5 of bitcoin seven years ago, you'd be $4.4 million richer. Its value is skyrocketing, because the world has realised its uses and potential.
Blockchain has become fundamental to cross-border payments, and therefore, fundamental to the way NOW Money (NOW) operates. At finder.com, we spoke to 10 industry experts about the way AI, blockchain, and social media is revolutionising cross-border payments. Here are the top trends those experts predict for the future, all of which NOW has already adopted.
Accessing mobile payments
One of the biggest game-changers touched on by all of the experts is the huge role mobile payments will play in the industry. In 2013, the United Nations (UN) found that more people have cell phones than toilets, with 6 billion people having access to a mobile (and only 4.5 billion to a working toilet). Most people in the world have a phone, which justifies a rise in the amount of people using it for their finances.
What is missing in a lot of countries, however, is a local mobile payments infrastructure, as well as an understanding of how mobile payments and wallets work. This is what NOW is working towards: using mobile payments in their smartphone app.
One of the biggest benefits of mobile money is that it is cheaper and easier to receive remittances. This makes it an ideal solution for managing the money of the "unbanked and underbanked".
Huge benefits for the unbanked and underbanked
The unbanked and underbanked refer to those who don't have an account at a bank or any other financial institution, or have poor access to mainstream financial services. According to a 2014 World Bank report, more than a third of the world's adult population make little or no use of formal financial services.
Blockchain allows this inclusion of those unbanked, by providing them with a range of convenient, affordable, and secure financial services, and is being used to help those in developing countries. Because of this, the experts predict that it will have a positive impact on rural areas, particularly with regard to people sending money back to their friends and family in those regions.
NOW realised that a large population of the Middle-East are low-income migrant workers who, due to UAE regulations, aren't able to open a bank account unless they earn over a certain amount – in other words, they are unbanked. NOW is providing these people with a low-cost option, a course of action that has been labelled as an emerging trend by the experts.
Helping digital security
The security of online transactions has been a huge problem for years, and is getting worse as technology progresses. It's not hard to see why. Giving over physical notes in exchange for a product is always going to seem safer than sending numbers through the internet, but blockchain aims to help this.
It's predicted that one of the first applications of blockchain will be around Know Your Customer (KYC). KYC is the process by which an institution can identify and verify the customer, which is currently a long process. With blockchain, there's no centralised authority that can be hacked. It's all verified and validated by a huge peer-to-peer network that acts as a database. Therefore, the KYC would be trusted to this enormous database, rather than just one financial institution. Although some experts see this as a way of the future, others hold reservations about what it will actually look like.
NOW, on the other hand, uses AimBrain, a biometric authentication start-up. It cuts down the cost and time, while increasing security, of the old methods of KYC. It works by constantly monitoring user behaviour and noticing if something seems off, like touch pressure or typing speed. This means that the user doesn't have to keep re-entering their password to keep their session active, and eliminates the idea of having to choose between user experience and financial security. This is trend of the blockchain future that some experts have predicted – one that is already in use by NOW.
Ahead of the curve…
Many of the experts admit that while this new technology exists, people inherently tend to stick to what they know. However, in the case of NOW, this innovative technology is already being adopted to fix a problem that exists in the community: the issues facing those low-income migrant workers wanting to make cross-border payments. Bitcoin and blockchain have proven to be major tools for this, and NOW has shown that they're ahead of the curve by jumping on this tech.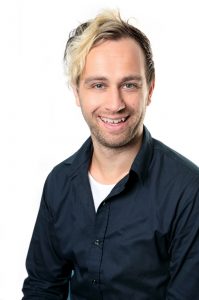 Fred Schebesta has become a fixture in the digital world as not only co-founder and CEO of global financial comparison site finder.com, but also an award-winning entrepreneur and startup speaker. Based in Australia, he's become a respected and successful business leader around the world.