Put simply, the poverty premium is the principle that people on low or zero incomes pay more on the essential costs of living than wealthier people.
Despite working in a business entirely centred around financial inclusion (providing access to the digital economy for those usually unable to afford it) I have only recently begun to investigate the true reach of the poverty premium's grasp: across almost all areas of our economy.
At a basic level, the poverty premium is predominantly dictated by economies of scale. Purchasing in bulk or from hypermarkets usually affords the buyer some kind of discount.
Why would you buy the rice from the convenience store? Perhaps it saves a trip in the car. If you fall into the middle or upper financial segments, this is likely. But for people on a lower income, around 70% of the UAE population, buying a small amount is all they can afford at one time. But they get less rice, dirham for dirham, than those who can afford to buy in bigger quantities or hypermarkets they can reach in their cars.
According to University of Bristol, the lowest income UK families pay nearly AED 4,000 more per year than their middle income counterparts for basic amenities. Costs are driven up by having to pay to access money (same in the Gulf), increased insurance costs due to living in dangerous areas, and paying for utilities in inefficient ways such as pre-paid meters, kiosks and gas bottles (again, same in the Gulf).
Working in the remittance industry, I am acutely aware of the costs people without access to the digital economy face compared with those who are banked. People from smaller countries such as those in Africa pay up to 30% of their transfers when paying cash at the counter. Those who can send them online would pay less than 5%.
Finance, access to credit, insurance – this is just the obvious stuff. The poverty premium extends way past finance or even groceries.
The UAE's recent ban on Skype has, as a nation of expats, affected most of us. Free calling home made living away from loved ones that little bit easier. Many have already found VPNs are a way to circumvent this ban. VPNs are not only illegal in the UAE, they are prohibitively expensive (around $100) for those who have a monthly disposable income of around $200 (AED750), and often too complicated for people with an elementary grasp of technology to implement anyway. Middle and higher income people may choose to pay this one-off VPN cost, but those on the lowest incomes must instead pre-pay for what phone credit they can afford and then spend that credit on premium international calls. Much like inheritance tax, the poverty premium is not afraid to tax the same funds repeatedly.
Have you noticed that in the last decade, the cost of "luxury" lifestyle goods – think televisions, Playstations – has depreciated, whilst the cost of life's basics – food, healthcare, transport – has exploded to ruinous levels? The poverty premium doesn't apply only to people living in absolute poverty like Somalia. This new type of poverty continues to hit those living in precarity in America, the UK and even here in the UAE.
So how are we addressing the poverty premium? Despite the attempts of universities and charities, it receives little attention from policy makers. Better to look at something you can influence far quicker. Technology. Technology is the ultimate equalizer.
Skype ban excluded, technology is bringing the power of choice to anyone in possession of a smartphone. The UAE has a 98% smartphone penetration level. If you are still in any doubt of lower-income people's capacity to operate a smartphone (we still hear this a lot), please look at this recent image of the NOW Money team delivering dates during Ramadan.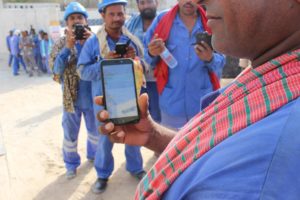 Looks staged, doesn't it? It isn't. These people are ready and waiting with half our economy's purchasing power. The "new" ideas aren't really new – after all, they are just selling things, renting things, delivering things. But the way they can be paid for and consumed – online, rather than expensively at the closest shop, brings a whole new dimension to accessibility and pricing.
The reason for financial inclusion isn't just providing people with a safe place to keep money (albeit, that's a good one). We have bigger plans for NOW Money and its ability to bridge the gap to other platforms: ecommerce, apps, even drones. These are just at the start of the journey to financial freedom for society's most challenged. And for the creators of these platforms, your market just got a lot bigger.