While earning your salary is hard work, learning how to send money internationally back to your loved ones should not be. 
Yet, if the experience of many foreign workers in the UAE is anything to go by, sending money internationally is unfortunately not that straightforward. 
Take Ramesh Giri, for example. Every month, the 24-year-old has to spend $7 and many hours on the road to send $600 to his parents and siblings back in Nepal. 
Many workers should try to avoid this scenario by learning the many new methods out there to send money internationally in the most convenient, cost-effective, and timely manner. This often includes new online money transfer services, which have increasingly become a mainstay for workers in one of the world's top sources of international transfers. 
Since 2020, the UAE has been the second-largest sender of remittances globally, as reported by Arab News. Also, at the end of 2021, 89% of UAE residents were classified as foreign workers, according to Global Media Insight, a digital marketing firm. This adds up to millions of people in the UAE that frequently require convenient ways to send money abroad. 
Today's digital world has also brought about lots of change. Fintechs and companies supported by them increasingly offer competitive alternatives to the international money transfer services usually provided by more traditional cash-based methods.  
In this article, we will identify the five best ways to send money internationally, including their pros and cons. 
At the end of the article, you will be in a better place to identify the best way to send money abroad. 
[Do you want to send money abroad in a more cost-effective, convenient, and quick way? Let your employer know about NOW Money's flexible and WPS-compliant payroll platform so you can access a personalised and free mobile banking account.]
1. Online money transfer services 
The last option in our consideration of the best ways to send money abroad are online money transfer services. 
These are fintech companies that allow migrant workers to send money abroad from the comfort of their phones through a mobile banking app. 
Fintech companies in the UAE are regulated by either the Central Bank or the Securities and Commodities Authority (SCA) while those registered in financial free zones are regulated by the relevant authority in the free zone.  
Because these money transfer companies are often digital, they require less operating costs when compared to banks or exchange houses. Consequently, they are able to offer lower transaction fees and competitive exchange rates. 
This is borne out by a brief study that The National News did in 2019. They found that sending AED 20,000 from the UAE to Germany through bank transfer cost AED 567.25 (fees plus exchange rate margin) or 2.9% of the transfer amount. In contrast, an online money transfer service only charged AED 74.10 or 0.4% of the transaction amount. 
Similarly, some money transfer companies, by using a less complicated network, are able to facilitate transactions within 24 hours instead of making senders wait for days. Also, these platforms tend to support multiple payment methods: bank transfer from a savings account, debit card, and credit card.  
Pros of online money transfer services
Lower transaction fees
Competitive exchange rates
Faster processing speed
Convenient
Cons of online money transfer service   
Some, like Wise and Paypal, are getting expensive
Some still require local bank accounts (and a debit or credit card)
NOW Money: An international money transfer service built with foreign workers in mind
While we believe that online money transfer services are the best way to send money internationally today, the difficulty of opening local bank accounts means many workers are still unable to access some of these apps 
NOW Money has been able to solve this problem. Through its mobile banking app, foreign workers can now directly receive their wages, salaries, and other WPS and non-WPS payments from their employers without going through the rigours of opening a traditional bank account. 
This is made possible because NOW Money also offers digital payroll software that employers in the UAE can use. Through this platform, employers can pay salaries through a NOW Money to NOW Money transfer to employees.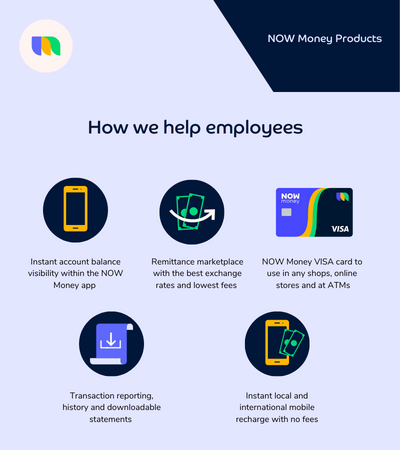 Employees then get access to a free mobile bank account (available on Android and iPhone) that comes with a VISA debit card that can be used to withdraw money from many ATMs and pay for online services.
Using the same account, foreign workers can send money home at a lower cost, faster speed and with more competitive exchange rates. That is, you'll receive your salary in the account and be able to send it immediately without having to withdraw the money or use a third-party.
In addition to international money transfers, NOW Money also allows you to recharge the phones of your family and friends abroad right from your account here in the UAE. 
Sending money internationally with NOW Money
NOW Money's mobile banking UX is personalised to meet the needs of every user. Therefore, when you login to the app, the home screen will be customised to meet your immediate needs.
For example, when you receive your salary, sending money home may be at the top of your mind. Therefore, the home screen will display the international money transfer service at the very top (as seen below):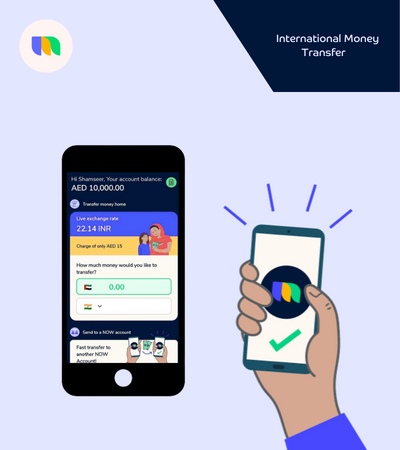 Once you put in the amount you want to remit (in dirham) and the destination country, you will see the fees that will be charged upfront (no hidden fees) and the current exchange rate between the dirham and the recipient's currency (say USD or Rupees).
If you agree with the fees and exchange rate, you can then proceed with the transaction.
On the next page, you will be required to input the beneficiary's bank details (account number, account name, among others) and confirm all the details of the transaction. Once you have done this, the transaction will start processing. And you will get a notification once it has been completed. 
If you ever have any questions, you can contact customer support in a language of your choice (among the 11 options provided):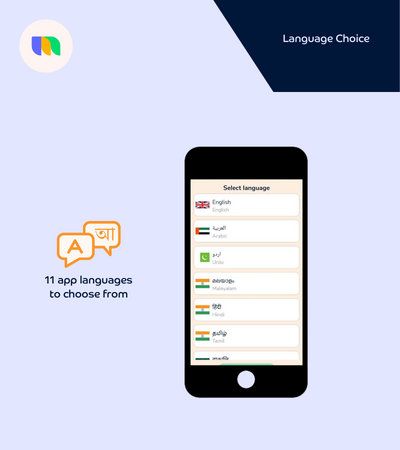 NOW Money also uses the best bank-level security features to protect users of its mobile banking app from cyber attacks. Therefore, you can confidently receive your wages and salaries and send money home without fear.
2. Exchange houses 
Also known as money exchange centres, exchange houses are financial institutions dedicated to the sending and receiving of international money transfers (also known as remittances) and the exchange of currencies. According to Emirates Diary, there are more than 130 exchange houses in the UAE. 
The importance of this regulatory function was recently made evident when the Central Bank fined an exchange house AED 1.9 million "for not doing proper due diligence and not adhering to rules to prevent money laundering," as reported by Khaleej Times. 
This was not the first time the Central Bank has penalised exchange houses, a fact that should make people more cautious. 
The Central Bank in the UAE (CBUAE) regulates the activities of these exchange houses, ensuring that they consistently act with transparency and integrity and do not become conduits for crimes.
To send money abroad through these exchange houses, a foreign worker will have to visit them and create a transfer request. The exchange house will then trade the dirham received from the sender to the foreign currency of the recipient's country. Once this is done, the transfer process starts. 
Using an exchange house only requires that the sender has a valid ID card. Even without a local bank account, they can send money abroad as long as they have the recipient's details. 
Exchange houses tend to have a fixed transaction cost that does not vary with the volume of money sent. As to be expected, transaction fees vary from one exchange house to another and some migrants have had to travel far to use a cheaper provider. 
Also, depending on the transfer method (cash pickup, account-to-account, transfer to mobile wallet, etc.), the process can take between 1 and 4 business days, though there are express transfer services (within minutes) that cost far more than the traditional methods. 
Pros of exchange houses
Multiple options to choose from
Fixed transaction fees favour those who send large amounts
Does not require a local bank account
Availability of express services
Cons of exchange houses
Stressful

: Making the trip to a local exchange house is stressful enough, looking for one with better rates and lower transfer fees is an added inconvenience. 

Exchange rates can be very poor
Fixed transactions fees do not favour those sending small amounts
Transactions can take time without express services
3. Physical bank branches
Most commercial banks in the UAE also provide international money transfers as part of their services. 
To do this, you can pay a visit to a local bank branch. There, you will find a section of the bank specifically devoted to foreign exchange and international receipts or transfers. 
Unlike exchange houses, you will need to have an account with the specific bank you want to use for the transfer. However, though fees can be lower (and transaction time shortened) when the sender and recipient use the same bank, banks can facilitate transfers from one bank to another correspondent bank. 
Banks are still considered the safest option by many people and this sense of safety can come at a price of longer transaction times (between 2-5 business days) and even higher fees.
Most banks use the SWIFT network (also known as an international wire transfer) to facilitate international payments and transfers. Therefore, the sender must have the recipient's bank's SWIFT code and routing number ready. 
Pros of physical bank branches
Considered safe
More stable currency exchange rates
Some banks offer incentives 
Cons of physical bank branches
4. Bank apps
Today, many banks now have mobile banking apps and online banking platforms, and international money transfers are one of the services that can be accessed through those apps. 
Compared to a visit to a bank branch, using a bank's mobile app is more convenient. To encourage the transition to mobile banking, some banks can also offer cheaper transaction fees among other incentives. 
Nevertheless, using a bank app or an online banking platform still requires having a local bank account (and a debit or credit card) and processing time can still extend to up to 2-5 working days if the sending and receiving bank differ. 
It's also worth noting that banks often have daily and/or monthly transfer limits on transactions done through digital channels and this can be a problem for those who need to send large amounts. 
Pros of bank apps
Convenient
Comes with various incentives
Cons of bank apps
Requires a local bank account
Long processing time
Possibility of cyber attacks
5. Cryptocurrency
To solve the problems associated with sending money internationally from the UAE, many crypto exchanges are now entering the market, as reported by Arab News.
These exchanges hope to lower transaction fees and processing time by helping workers in the UAE send money home through cryptocurrency. Also, they hope to provide an alternative for those foreign workers who are impeded from opening local bank accounts due to high minimum salary requirements.
Cryptocurrency as a means of exchange removes the barriers and complicated regulatory frameworks associated with traditional cross-border payments. Its wallet-to-wallet service is simple and time efficient. 
However, the volatility of cryptocurrency and the preponderance of crypto scams have made it an inefficient option that many people prefer to avoid. For example, to explain the latter point, upwards of $22 million was lost by Dubai residents to crypto scams between January and August, 2021, according to Arab News.
Consequently, many foreign workers have refused to see cryptocurrency as the answer they require. 
Pros of cryptocurrency
Faster transaction speeds
No account minimums or related regulations
Simple and easy to use
Cons of cryptocurrency
[Do you want to send money home in a cost-effective, quick, safe, and convenient way? Inform your employers to register for NOW Money's smart payroll software so you can also access free and personalised mobile bank accounts from which you can most effectively and efficiently send money abroad.]
Takeaways
Sending money home to family and friends is one of the most important priorities of foreign workers in the UAE. 

There are at least five good ways these workers can send money back to their loved ones abroad. 

Of all these methods, online money transfer services have the most advantages: including low transfer fees, competitive foreign exchange rates, fast processing speeds, and overall convenience. 

NOW Money, by providing free mobile accounts that don't require traditional bank accounts, makes international money transfer the most accessible.