Mobile money has made essential banking services more accessible to everyone, especially those people who can't open traditional bank accounts. But how do mobile money transfers work — and which mobile money services are the best for you? 
Let's start off with a simple definition. 
Mobile money is a digital financial service that allows you to receive money and carry out various financial transactions with your mobile phone. 
For example, one of the common transactions you can carry out with mobile money is the transfer of funds to other people both nationally and internationally. 
The UAE and Saudi Arabia are the second- and third-biggest senders of international remittances in the world, so making international money transfers is a fluent part of many people's lives in our region. However, the traditional means of sending money abroad – physical exchange houses and bank branches – are ineffective. 
Mobile money removes those inefficiencies by providing a cheaper, simpler, and easier way to send money abroad, amongst other transactions. 
In this article, we will introduce you to the world of mobile money in our comprehensive effort to answer the question, "how do mobile money transfers work?" 
We'll cover: 
What is mobile money?
The uses of mobile money
Why you should use mobile money
How to access mobile money in the GCC
[Do you want to use mobile money to send funds abroad and carry out other financial transactions in the GCC? NOW Money was built to provide free mobile accounts for employees and flexible payroll for employers. Learn more about how NOW Money can help you and your employer.] 
1. What is mobile money?
Mobile money is the use of your mobile phone as a digital account from where you can send and receive money, as well as carry out other financial transactions. 
Instead of going to a bank's physical branch to open an account, mobile money allows you to use your mobile phone number as an account number and your mobile phone as your digital bank account. 
Mobile money was created as a way to increase financial inclusion and to bank the unbanked, underbanked, and underserved. 
"Financial inclusion allows people to save for family needs, borrow to support a business, or build a cushion against an emergency," said Jim Yong Kim, former president of the World Bank. "Having access to financial services is a critical step towards reducing both poverty and inequality, and new data on mobile phone ownership and internet access show unprecedented opportunities to use technology to achieve universal financial inclusion." 
The exclusion of a large swath of people from the financial system is especially a significant problem in the MENA region. According to Khaleej Times, "the Middle East and North Africa (Mena) region has among the world's largest unbanked population" and "It also has the largest financial inclusion disparity." 
Data from the Consultative Group Against Poverty, quoted in the Khaleej Times article, shows that 41% of adults in the MENA region didn't have a bank account in 2020.
Also, the Journal of Risk and Financial Management showed that 32% and 19% of the UAE population were unbanked and partially banked, respectively in 2020. Meanwhile, in the entire GCC the unbanked population ranges from 22% (according to PwC) to 70% (according to Gulf Business).
Regardless of the actual number of unbanked people, mobile money can play a pivotal role in getting more people in the GCC into the financial system. 
"If the banking system has failed the underprivileged, at least so far, technology has come to the rescue," said Khaleej Times. "Financial technology, more popularly referred to these days as Fintech, has been bringing significant value to the unbanked and underbanked."
And with the UAE having a smartphone penetration of 91%, and the whole MENA region boasting a penetration rate of more than 70%, the opportunity to bank people through mobile money is among the best we have. 
[To see what NOW Money is doing to improve financial inclusion in the GCC, read "Banking the Unbanked: The Mission to Provide Equitable Bank Access"]
2. The uses of mobile money
But exactly what transactions can you carry out with mobile money? 
Let's take a look at a few of the most common ones. 
Receive and send money
The ability to receive and send money is an essential part of the financial system. With mobile money, this basic financial service becomes even more accessible, allowing you to send and receive money at the comfort of your phone through an app and/or USSD.  
How do mobile money transfers work?
While a few mobile money operators will only allow you to send and receive money from other people using the same operator, most mobile money operators will allow you to send and receive from those who are using regular bank accounts or other mobile money operators. 
Whatever the case, the process is similar. 
On the app's dashboard, you will find a tab or section typically labelled "send money" or "transfer money" or something similar. Once you have clicked through, you will input the mobile money or bank details of the recipient: recipient's account number, name of recipient's bank or mobile money operator, and amount to be transferred. 
The app will ask you to confirm the transfer. Once confirmed, the transaction will be processed. 
With USSD, you will need to know the code your mobile money operator uses for transfers. Once you have dialled that code, you will also be required to input the same details about your recipient as the app. Once done, you will get to confirm the transfer and it will subsequently be processed. 
In addition to local transfers of this nature, some mobile money operators like NOW Money also allow you to send money internationally. 
With this service, you can ditch the stress and high cost of sending money abroad through physical exchange houses and local bank branches. Consequently, you'll be able to send more money to family and friends abroad – thanks to better rates and less fees – and more conveniently. 
With international money transfers, you might need to fill in more details about the recipient's bank if they don't use the same mobile money operator. Here, ensure you get all these details from the recipient and confirm them before sending. 
Payment for goods and services
In addition to sending money to family and friends, you can also send money as payments for goods and services. 
Mobile money operators like NOW Money also provide debit cards so you can pay for goods and services through a transfer as well as a POS system, such as at a  cashier. 
Airtime recharge
Mobile money also allows you to recharge airtime for yourself and others. With this, you can buy airtime at the comfort of your phone instead of leaving your office or home looking for a vendor.
Operators like NOW Money also permit you to send international airtime recharges for your family and friends abroad. 
Pay bills
You can also subscribe for your internet or TV service, pay children's school fees, pay for your electricity and water bill, etc., through a mobile money account. 
The more services your operator can onboard, the more bills you can pay conveniently and comfortably without going outside of your home or office.
Cash withdrawals
Some mobile money operators allow you to withdraw cash from your account through mobile agents situated at strategic locations. You can transfer to these agents and collect cash. 
Alternatively, mobile money operators like NOW Money provide you with a free debit card that you can use to withdraw cash at any ATM. 
3. Why you should use mobile money
Aside from the fact that mobile money helps open the door to all the basic financial services offered by banks, does it have any practical benefit to the user? 
Indeed, mobile money has many. 
Stress-free access to financial services
If you have ever had to go to a physical exchange house or a local bank branch to send money abroad, you are aware of the stress of making the round trip. You are also aware of the stress of making return trips when there is any error in the transfer.
What if you exhaust your airtime while making an important call and you need to go out to find airtime vendors? 
What about going to a bank or a physical office to pay bills or carrying cash to pay for goods and services? 
With mobile money, you can avoid common stresses associated with accessing traditional financial services, instead conducting everything at the comfort of your home or office. 
Cost-effective access to financial services
According to the Global Findex Database, a report that tracks the growth of financial inclusion, "digitising payments can improve their efficiency by increasing the speed of payments and reducing the cost of disbursing and receiving them."
The 2019 report by The National showed that mobile money can indeed reduce the cost of disbursing and receiving payments. It showed that international remittances cost on average 7.012% with cash, 7.11% through a bank account, 6.13% through a debit or credit card, and 4.9% through mobile banking in the UAE.
Also, mobile money removes the need of using financial intermediaries to send money, pay bills, recharge airtime, among others. These intermediaries are often expensive, making them cost-ineffective.  
Faster access to financial services
The Global Findex said that digitising also increases the speed of payments. 
In fact, it improves the speed of everything. You can send and receive money, pay bills, and recharge airtime quickly instead of waiting for financial intermediaries who will take more time.  
Secured access to financial services
Many who can't open bank accounts often resort to carrying cash around. It goes without saying that carrying cash around is a security threat. 
Mobile money improves security by taking away the need to carry cash around. 
Also, mobile money operators are often regulated in the country where they operate, which means they have to meet high regulatory standards when it comes to protecting the data and money of customers from cyber attacks. Every user will also undergo a KYC (know your customer) process to ensure that bad actors are not allowed access. 
Digitised payments, according to the Global Findex Database "can also enhance the 
security of payments and thus lower the incidence of associated crime. And disbursing payments through digital channels rather than cash has been shown to increase transparency and reduce corruption."
[For more on the benefits of mobile money to employees and the consequent benefits to employers and the society, read "6 Benefits of Mobile Banking for Employers, Workers, and Society"]
4. How to access mobile money in the GCC
Now that you know how mobile money and mobile money transfers work and how they can benefit you, how do you start enjoying them?
NOW Money is a payroll management platform that also provides digital bank banking services for employees of companies using the platform. 
As we have described above, NOW Money has incorporated international money transfers, international airtime recharge, and the use of debit cards for payments and withdrawals to maximise the services you can enjoy with its mobile account.
With NOW Money, you will have access to stress-free, cost-effective, faster, and secured access to a range of financial services.
How can you use the NOW Money mobile account?
Once your employer registers on the NOW Money payroll platform, you'll have access to the mobile account by registering on the mobile app. 
The registration includes a KYC process that ensures the integrity of the app.
This always includes in-person visits for introductions and card delivery. 
The NOW Money onboarding team meets 100's of customers daily at their workplace and accommodation because we committed to help educate people to become more financially literate.
Corporates need to complete KYB Process and the Employer Portal will be activated and the authorised users will get access credentials. 
They can then easily set up salary, by uploading the required salary details, based on the template available on the portal. The NOW Money team provides them with a Portal Training Guide and in-person training.
App Registration and Card Activation:
This stage involves downloading the app, registering as a user, taking a photo of the user's EID and a selfie video. 
NOW Money team helps employees to activate their card and complete their KYC.
Employees are taken through an App tutorial video as well as demonstrations from the NOW Money team on how to use the app and all the functionalities available: Remittances, Mobile Recharge, Balance Enquiry and Customer Service and more.
When our onboarding team visits, you'll get your NOW Money card. 
When you receive the card, you can activate it in a few minutes on the app so you can start using it for withdrawals, payments and money transfers, including to people abroad. 
To send international money transfers, first go to the app's homepage, then go to the international mobile money transfers section.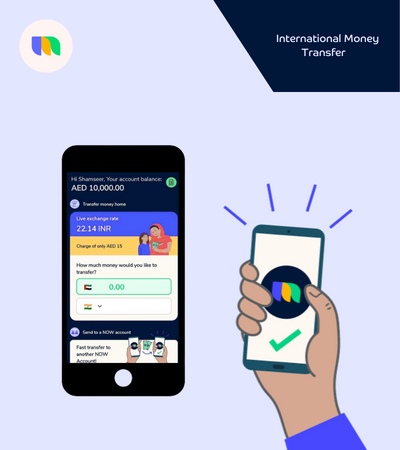 Here, you can select the country where you would like to send the international money transfer and check the exchange rate applicable at the time. 
Just follow the prompt to complete your international transfer in a few minutes. 
Below the international mobile money transfer section you'll find the mobile recharge section. Here you can recharge airtime for yourself or other people (both locally and internationally). 
To improve your experience on the app, NOW Money allows you to operate the mobile app in eight different languages.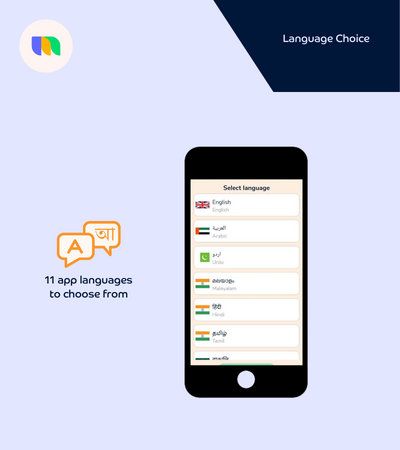 In addition to using the app in eight different languages, you can also access our customer service support through live chat, and in the language of your choice. 
Do you want to enjoy cost-effective, faster, and secure access to financial services in the UAE?
NOW Money mobile app is safe and simple to use. Recommend our smart and effective payroll solution to your employer so you can start enjoying the benefits of our mobile bank account once they have signed up.